OFFICIAL WEBSITE
B.Thomas is a country artist from north part of Norway. He is a well established singer and entertainer. He is the only Garth Brooks Tribute artist in Norway who does a complete GB show. He is available to play concerts everywhere, not only in Norway but also in other countries in Europe, such as Sweden, Finland, Denmark, and Germany Etc. He has long experience playing concerts around. B.Thomas performs live country music from Garth Brooks, He also performs some music of Alan Jackson, Toby Keith and Clint Black, and some of his own, included music from his Nashville album.

After being a Garth Brooks "Wannabe" during the last 25 years, and after have being on the road during many years with duo / trio concepts and a full band, he have performed much of Garth`s music. With his passion for this music, his own voice, and with close to the original versions, the super Professional performance tracks, himself on lead vocals, and two guitar players will make the live performances sound real and honest.
B.Thomas & Redneck Cowboys are ready to deliver their one of a kind show called : "Blame it all on Garth Brooks" for your event.
Another show that might be available to book is a "Garth Brooks & Elvis Presley Legends Show" with B.Thomas and Kjell Elvis.

Garth Brooks & Elvis Presley - Legends Show
B.Thomas as Garth Brooks and Kjell "Elvis" Bjørnestad as Elvis Presley.
To read more (in Norwegian): Click Here
To view and sign our guestbook, click below:
NEW CD ALBUM
Release date: February 7, 2022
The Newest Album from B.Thomas is called "The February Seven Tribute To Garth Brooks" and the title speaks for itself, because this Album was released as a Tribute to Garth Brooks in connection with his 60th birthday on The 7th of February 2022.
Most of the tracks on this album is from GB`s 1997 Album "Sevens". There`s no Doubs', the Number 7 is GB`s lucky number as he has stated many times, his album "Sevens" was also one of his greatest albums he has told his fans. There is some similarities between GB and B.Thomas, they both have the number 7 has their lucky number, they both love to perform the same kind of music.
There is 8 songs from "Sevens" on this Album, one from "Fresh Horses", one from "The magic of Christmas", one from "Ropin` The Wind" and one from "The Chase". The coming Tribute album from B.Thomas, "The February Seven Tribute To Garth Brooks" is also available as digital download and streaming, worldwide.
Listen to the Album preview with the Player below at the bottom of the website !
To Buy the Music, follow this link: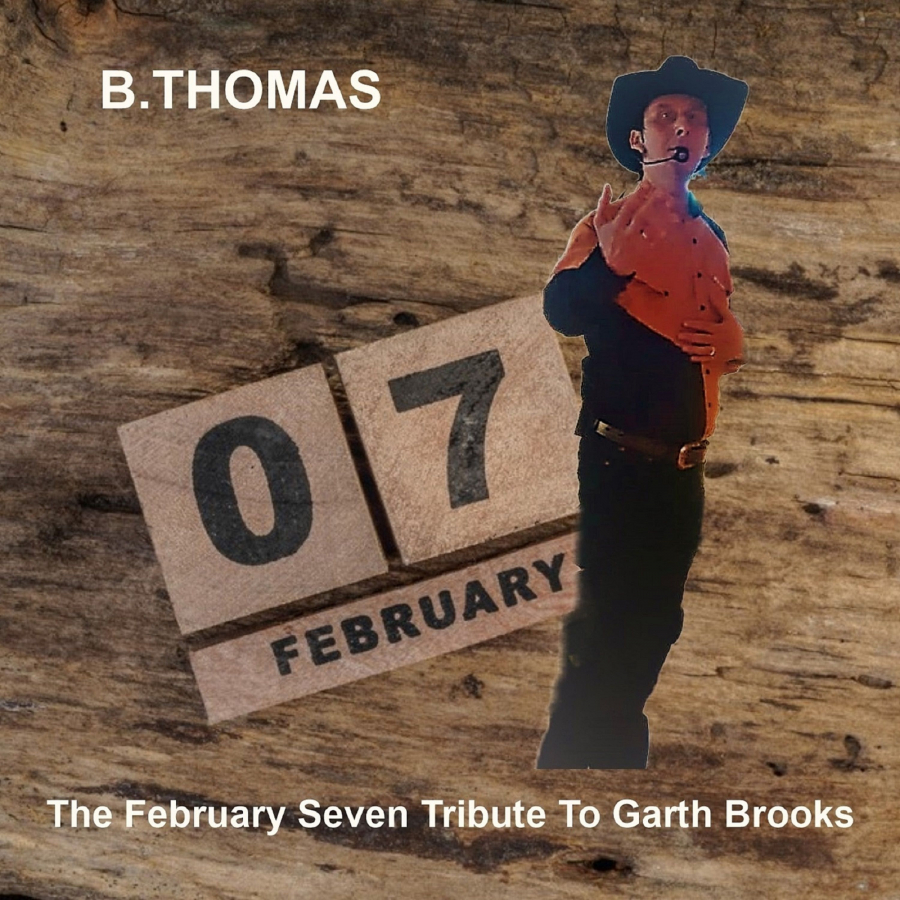 Track List
"The Classic Tunes of Garth Brooks" (2021) THE ALBUM IS AVAILABLE AS DIGITAL DOWNLOAD

This Album have some of the good old classic GB stuff from the early 90`s. This is the B.Thomas versions of some of the greatest Garth Brooks hits from his younger days. Performed "In The Style of" GB. Even the sound is recreated to fit the right time period.
Track List